Growth Engineering – Sales Growth Strategy to Action
With Growth Engineering, we help your team build a custom growth action plan based on the growth strategy that generates the best ROI.
Which strategy? Use our Growth Assessment Calculator GrowthCalc™ to find out which of the 4 business strategies,
or which combination, is right for you. It's driven by your numbers.
4 Growth Strategies: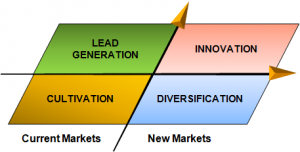 Integrate 4 Strategies into a Custom Sales Growth Plan
Achieving sustainable growth means it's part of your continuous improvement plan. It's not a one-shot deal. It's iterative and cumulative. Taking action in one area often leads to unexpected new opportunities. Best-in-class companies seize those opportunities. Taken together, this becomes your sales growth plan. An Action Plan.
For example, focusing on growth with current customers can lead to an opportunity in a different region of the country or world. Cultivation may lead to opportunities for Diversification, which can lead to Innovation, all of which leads to success.
Your custom action plan may be based on a single growth strategy, or may be a roadmap that integrates a unique combination of the 4 growth strategies to help your team get from point A to point B quickly and efficiently.
Building a custom action plan is where experience comes in. So does understanding your firm's goals and the resources you can dedicate to it. That's where we come in.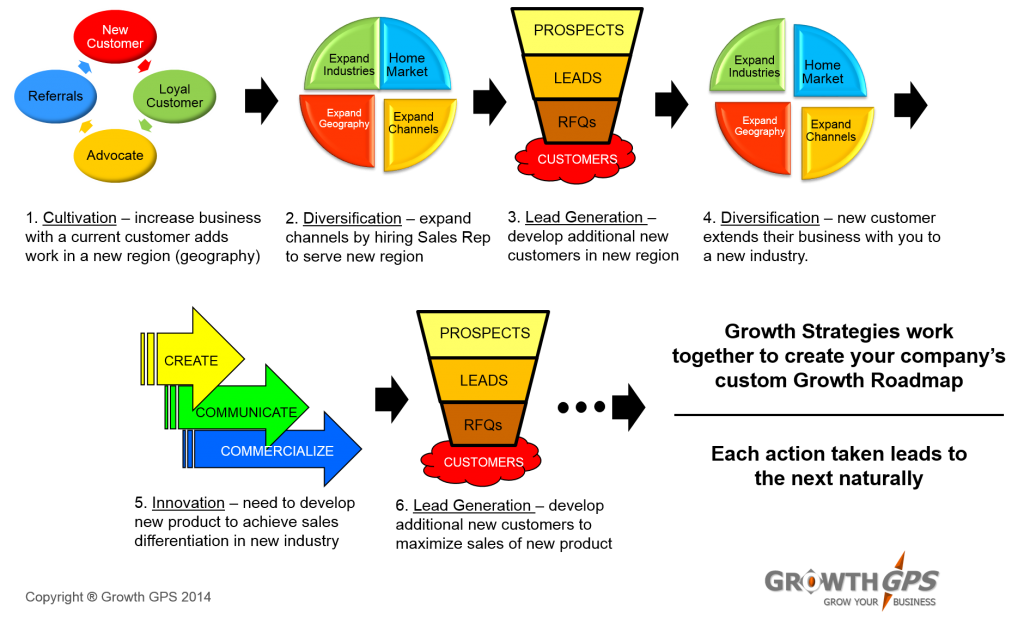 We Engineer Your Custom Sales Growth Action Plan
Strategy is one thing – if you're at point A, a good strategy identifies a realistic point B. Getting from point A to point B is another story – it takes an action plan, a team, persistence, and experience.
That's where we come in. We work hand-in-hand with your team to develop a customized, step-by-step action plan that delivers results. It's based on your company's goals, strengths, challenges, opportunities, team, timeframe and resources. This means we get it done with the following:
Meeting arrangements
Team development
Roles & Responsibilities
Training on using new tools and techniques
Budgeting for implementation
Launching new initiatives & campaigns
Measuring campaign results and developing refinements & next steps
Custom metrics & KPIs (key performance indicators)
Management reporting
Nothing is left to chance. There's no guesswork, no gimmicks, just straightforward results.
Call: 248-953-3134

Our Latest Project – MAD Teams!

What's Hot

Connect: