Strategic Growth Plan – Your Growth GPSTM
You've got goals and they include growing your company. Chances are those goals are built into your business plans. Converting goals into strategies and action plans takes time you don't have. The question most business owners ask is where to invest limited time and money to get the biggest bang for the buck.
Does your company business plan include sales & profit growth but lack strategies and investment to achieve it?
Does your company leave growth to the Sales Team when the challenge is company-wide?
Does your company lack a growth road-map and metrics to track progress and ROI?
Sales Goals to Action in 3 Easy Steps
Schedule a FREE on-site meeting (call or e-mail)
Growth GPS coach will use GrowthCalc with your metrics to identify the best-ROI strategy to achieve your goals (see 4 strategies below)
Create a custom sales growth plan roadmap based on the best-ROI strategy and your timeframe & resources
You use tools to measure and track your processes. Your quality. Your on-time delivery. Even your personal  investments. Why not your business growth?
GrowthCalcTM Strategic Growth Planning Tool
We meet to discuss your company's growth goals
We enter your metrics into GrowthCalc
GrowthCalc output is your GPS – Growth Performance Score – an indicator of your company's "success" for each of the 4 growth strategies shown below
Your lowest score indicates the best strategy to implement now
Successful implementation improves your Score for that strategy
Best-in-class companies aim to improve their Scores for all 4 strategies
6 TIMES FASTER Sales Growth using GrowthCalc
GrowthCalc takes the guesswork out of investing in business growth. Results prove it – companies using Growth GPS' GrowthCalc tools grow 6 times faster.
Most companies measure the results of growth efforts through the rearview mirror – your latest sales and financial results. GrowthCalc looks forward – a windshield view – to identify the best next initiative to take for your company's sustained growth. Will your company benefit the most from: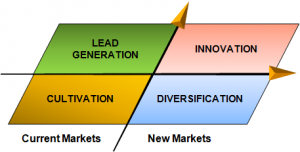 Cultivation – growing with current customers
Lead Generation – growing with new customers
Diversification – growing in new markets
Innovation – growing with new products/services
Put GrowthCalc to work to discover your strategic starting point. CALL or EMAIL to schedule your get-started meeting.
Call: 248-953-3134

Our Latest Project – MAD Teams!

What's Hot

Connect: